01.05.2013, 11:44 PM
(Последний раз это сообщение было изменено: 01.05.2013 11:58 PM AeroAqua.)
AeroAqua
DarkTeam Clan

Сообщений: 637
Like'ов Поставлено: 513
Like'ов Получено: 994
Присоединился: Aug 2012
NFSW News
2-May-2013 IGC Cars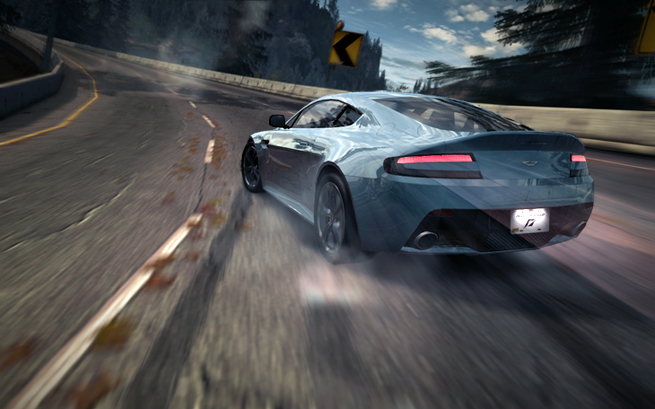 It's a patch week for Need for Speed World and with every patch more cars are made available for in-game cash! After this week's patch you'll be able to pick up the following cars for in-game cash:
Lancia Delta HF Integrale Evoluzione - The Delta already had a great rally racing pedigree by the time this Integrale Evo came to market. Featuring widened track and body work over the standard Delta, the Integrale Evo was an AWD terror. The turbocharged 2.0l engine developed over 200hp and rocketed the car to motorsports dominance!
Lotus Europa S - Lightweight with loads of torque, the Lotus Europa S delivers "supercar" levels of acerbation with its turbo engine. Get this high performance sportscar today and leave your competitors in the dust!
Aston Martin V12 Vantage - With its V12 engine, compact form and high levels of torque, the Aston Martin V12 Vantage is truly an exhilarating sports car.
But when new cars become available for in-game cash it means that three cars also head into retirement. After this week's rotation the Lamborghini Murciélago LP-640, Porsche Panamera Turbo and Mazda RX-7 RZ will no longer be available in the Car Dealer so get them while you can.
What do you think? DICE / Ghost Games (EA Gothenburg) will take nfs world?
4 пользователям "Liked" сообщение AeroAqua'a :
4 пользователям Like AeroAqua
erion
(01-30-2014)
,
MaxMade
(05-02-2013)
,
mussstep
(05-02-2013)
,
Sheogorath
(05-01-2013)
02.05.2013, 12:04 AM
mussstep
Gold Member

Сообщений: 1,618
Like'ов Поставлено: 592
Like'ов Получено: 868
Присоединился: Sep 2012
Репутация: 155
RE: NFSW News
nothing special again...but one thing,i will earn lancia collector achivement :D
---


Мои творения:

02.05.2013, 12:07 AM
AeroAqua
DarkTeam Clan

Сообщений: 637
Like'ов Поставлено: 513
Like'ов Получено: 994
Присоединился: Aug 2012
RE: NFSW News
lancia and lotus :D, more easy with aston.. i think v12 vantage is 1.600.000 , dbs 1.800.000..
2 пользователям "Liked" сообщение AeroAqua'a :
2 пользователям Like AeroAqua
alanda kazira
(01-13-2014)
,
kostel211
(01-10-2014)
02.05.2013, 09:42 PM
AeroAqua
DarkTeam Clan

Сообщений: 637
Like'ов Поставлено: 513
Like'ов Получено: 994
Присоединился: Aug 2012
RE: NFSW News
2.05.2013 - Sale cars
LFA, Scion, and RX7 RZ specials
Audi 4.2=2040
Audi RS4=1380
Audi S5=1500
Audi TT=1560
CCX=3600
Porsche 911 RSR 3.0=1800
Porsche 911 Carrera S=3000
Porsche 911 GT2 (997)=2820
Porsche 911 GT3 RS=3060
Porsche 911 GT3 RS 4.0=4680
Porsche 914 =2400
Porsche 959=2820
Porsche Spyder=2340
Porsche Carrera GT=5160
Porsche Cayman=1260
Porsche Panamera=2400
Volkswagen R32=780
1 пользователь "Liked" сообщение AeroAqua'a :
1 пользователь Like'ов AeroAqua
MaxMade
(05-02-2013)
02.05.2013, 10:19 PM
AeroAqua
DarkTeam Clan

Сообщений: 637
Like'ов Поставлено: 513
Like'ов Получено: 994
Присоединился: Aug 2012
RE: NFSW News
Purpose:
The purpose of this maintenance window is to deploy server / a game patch to Need for Speed World. Please see Release Notes below.

Date:
May 2nd, 2013

Duration:
2 Hours
Start: 1:00pm (13:00) PST – 4:00pm (16:00) EST – 9:00pm (21:00) UTC
End: 3:00pm (17:00) PST – 6:00pm (20:00) EST – 11:00pm (23:00) UTC

Bug Fixes/Changes:
- Fixed an issue that prevented players from receiving rewards in Team Escape
- Fixed an issue that caused players to receive both 0 Rep and 0 Cash after completing an Event
- Fixed an issue that allowed a selected Achievement badge to change when using the mouse scroll wheel
- Fixed an issue that caused player's microphones to mute in the Pre-race lobby after clicking Race Again
- Optimized the way damage displays for a number of cars with body kits installed
- Achievement rarity will now progressively update during a session
- Client optimizations were made to help reduce server load
- Some minor localization fixes were made
- Fixed an issue that prevented vinyls from being placed on some locations of the Chevrolet El Camino SS "Vengeance"

Special Note:
- The world.needforspeed.com website may go down shortly during the maintenance period
2 пользователям "Liked" сообщение AeroAqua'a :
2 пользователям Like AeroAqua
CipheeX
(05-02-2013)
,
MaxMade
(05-02-2013)
03.05.2013, 10:59 PM
(Последний раз это сообщение было изменено: 04.05.2013 08:57 AM AeroAqua.)
AeroAqua
DarkTeam Clan

Сообщений: 637
Like'ов Поставлено: 513
Like'ов Получено: 994
Присоединился: Aug 2012
RE: NFSW News
2.05.2013 thx geulach
PATCH INFO:
2013.05.02
23MB + 21MB

CARS:
Pagani Huayra

SPECIAL EDITIONS:
Ford Mustang RTR-X "SuperStock" Edition
Chevrolet Chevelle SS "SuperStock" Edition
Dodge Challenger R/T "SuperStock" Edition
Ford Crown Victoria Police Interceptor "Hoser" Edition
Mitsubishi Lancer Evolution X "Showdown King"
Mazda RX-7 "Battle Machine"

VISUALS:
17 License Plates

DEALS:
Pro Street Vinyl Pack
The ProStreet Car Pack!

OTHER:
CINCO DE MAYO
500,000 CASH (As Reward)
All-New Body Kits
4 пользователям "Liked" сообщение AeroAqua'a :
4 пользователям Like AeroAqua
CipheeX
(05-04-2013)
,
MaxMade
(05-03-2013)
,
mussstep
(05-04-2013)
,
[email protected]
(03-06-2014)
04.05.2013, 12:13 AM
(Последний раз это сообщение было изменено: 04.05.2013 12:15 AM CipheeX.)
CipheeX
Gold Member

Сообщений: 791
Like'ов Поставлено: 614
Like'ов Получено: 327
Присоединился: Jan 2013
Репутация: 47
RE: NFSW News
(03.05.2013 10:59 PM)

AeroAqua : 2.05.

2012

thx geulach
2 пользователям "Liked" сообщение CipheeX'a :
2 пользователям Like CipheeX
AeroAqua
(05-04-2013)
,
mussstep
(05-04-2013)
04.05.2013, 12:29 AM
mussstep
Gold Member

Сообщений: 1,618
Like'ов Поставлено: 592
Like'ов Получено: 868
Присоединился: Sep 2012
Репутация: 155
RE: NFSW News
prostreet car pack....hmm...sounds good :)
---


Мои творения:

1 пользователь "Liked" сообщение mussstep'a :
1 пользователь Like'ов mussstep
CipheeX
(05-04-2013)
04.05.2013, 08:58 AM
AeroAqua
DarkTeam Clan

Сообщений: 637
Like'ов Поставлено: 513
Like'ов Получено: 994
Присоединился: Aug 2012
RE: NFSW News
(04.05.2013 12:13 AM)

ExtremeLevel :

(03.05.2013 10:59 PM)

AeroAqua : 2.05.

2012

thx geulach



fixed
1 пользователь "Liked" сообщение AeroAqua'a :
1 пользователь Like'ов AeroAqua
CipheeX
(05-04-2013)
04.05.2013, 09:33 PM
AeroAqua
DarkTeam Clan

Сообщений: 637
Like'ов Поставлено: 513
Like'ов Получено: 994
Присоединился: Aug 2012
RE: NFSW News
2 пользователям "Liked" сообщение AeroAqua'a :
2 пользователям Like AeroAqua
CipheeX
(05-04-2013)
,
MaxMade
(05-04-2013)
Просматривают: Гости: 1
---